Clinical Topics
Coronavirus – COVID-19
If you are unwell with COVID-19 symptoms and need medical advice, contact the Practice when we are open, and only call 111 when the Practice is closed. 
If you have symptoms of Covid-19, do NOT go to your GP, Pharmacy or Hospital.  Follow the advice and testing guidance and the stay at home guidance for households with possible Coronavirus infection.
If you have a medical emergency, phone 999 and tell them you have COVID-19 symptoms.
If you have to stay at home because of Coronavirus and you need a note for your employer please click here.
For the latest information please visit www.nhsinform.scot/coronavirus or call 0800 028 2816
Appointments Update
We are following current Government Guidelines on Covid-19 restrictions.  For all appointments, urgent and routine, call on the Practice number 01334 476840 and the Reception Team will advise on the best person for you to speak to.  They may arrange a telephone consultation initially.  If a face to face appointment is needed, this can be arranged for you.  We have designated post boxes where you can leave prescription requests and samples.  The Admin Team can be contacted by calling 01334 476840 if you need assistance after arriving at the Practice if the Reception Desk is unmanned.    Although staff and patients are no longer required to wear face coverings in non-clinical areas and the 2-metre physical distancing has been removed in non-clinical areas, staff and patients are still required to continue to wear Fluid Resistant Surgical Masks (FRSM) and adhere to 2-metre physical distancing in clinical areas.
Online Access
We have temporarily suspended Online Access for making routine appointments.  Our online repeat medication service remains unaffected, however in line with guidance from the Scottish Government, we are not issuing any repeat medication more than 14 days before its due date; please re-order this when you have a two week supply left. 
New Patients Needing to Register with the Practice
For patients new to the area and needing to register permanently with the Practice, during this current crisis and to avoid the need to attend the Practice in person, we will be able to accept registration documentation by email.  Please visit our Registration page for information and advice as to how to do this.
Practice Information
Are you a student?
Undergraduate students from St Andrews University are requested to register with a St Andrews Medical Practice based on their surname. Read more…
Have you changed address? Let us know.
Practice Privacy Notice
In accordance with General Data Protection Regulations the practice has drawn up a Privacy Notice which outlines the type of data we hold, how we use it and your rights under the legislation.
Pipeland is now a parkrun Practice!
Pipeland is proud to be associated with and support the St Andrews parkrun.  This is a free weekly 5km timed run in Craigtoun Country Park at 9:30am every Saturday.  For more information click here.
Pipeland organised a successful "parkrun takeover" on Saturday the 12th of November at Craigtoun Country Park.  Most of the volunteering posts were covered by Practice staff and there was a great turn out of runners – 181 people ran.  Well done everyone!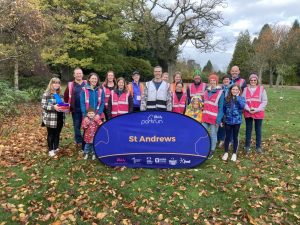 In the News
Get Checked Early
If you're experiencing any persistent symptoms that are unusual for you, such as lumps, blood or unexplained weight loss, your GP practice wants to hear from you. Because the earlier you find cancer, the more treatment options are available, increasing your chances of living well again.